Do you want to stay logged in?
For your security, you will be logged out shortly.
Brew Master Bundle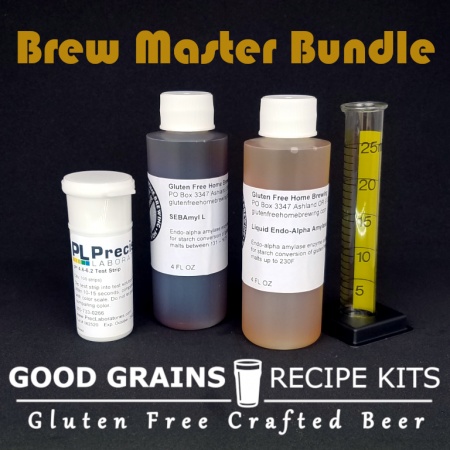 Click to Enlarge
Welcome to all-grain gluten free home brewing. Termamyl SC DS (replaces Termamyl 120 L Type L) and SEBAmyl when used together are suitable for a single infusion or higher efficiency reverse step mash! Most brewers experience at least 75% efficiency once they have mastered these method. These enzymes are very versatile and can used in a number of mash regimes.

This bundle has everything you need to get started brewing gluten free beer. Bundle includes: Termamyl SC DS Thermo-Stable Amylase Enzyme - 4 OZ, SEBAmyl L Liquid Enzyme - 4 OZ, pH Test Strips - 4.6 - 6.2 Range, and a 25ML Plastic Measuring Cylinder (Bundle Exclusive).

**Click 'Resources' > 'Tutorials' > 'All Grain Brewing Tutorial' for usage recommendations updated October 2020**

Single Infusion Mash: Termamyl SC DS enzyme work -WITH- the SEBAmyl L enzyme at temperatures of 155-165F (163.4F recommended) to convert starch into fermentable sugars.

Reverse Step Mash: Termamyl SC DS enzyme work at temperatures of 155-165F to convert starch into chains that the SEBAmyl L enzyme can work at temperatures of 140-150F to convert those chains into fermentable sugars. By using the enzymes separately at two different temperatures, the alpha and beta amylase enzymes work in their optimal environments. This results in a higher amount of starch conversion, and a higher amount of fermentable sugars.
Price: $36.99
Ship Weight: 1.06 Pounds
SKU: GFHB-AMYL

There are no reviews for this product. Please consider writing one.
Write a Review