Do you want to stay logged in?
For your security, you will be logged out shortly.
Mangrove Jack's Craft Series Apple Cider Pouch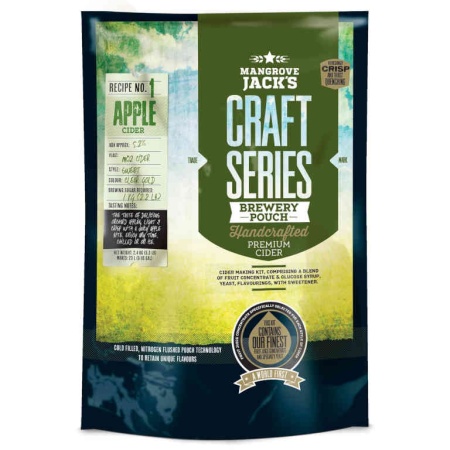 Click to Enlarge
The taste of delicious orchard apples, light and crisp with a juicy apple bite. Enjoy any time, chilled or on ice. Includes step-by-step instructions.

ABV Approx: 5.2%
Style: Sweet
Color: Gold
Makes: 23 L
Brewing Sugar Required: 1 kg Dextrose (needs to be purchased in addition)

Sold individually
Price: $44.99
Ship Weight: 5.30 Pounds
SKU: BSG-CZZZ0001


From: Stephen Wilfong-Oliphant
By Valued Customer on 11/02/2015
Malt is a fairly light color, but has a very buscuity aroma to it. Great quality, was great to brew with. I used it in conjunction with a few other grains to make an Oatmeal Stout, and I am looking forward to the finished product!
---
Write a Review