Do you want to stay logged in?
For your security, you will be logged out shortly.
Happy To Be Hoppy Pale Ale - Extract Recipe Kit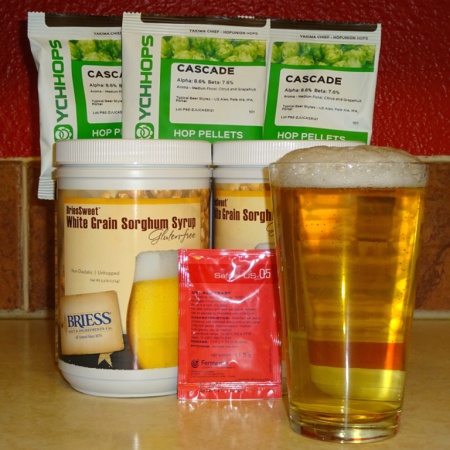 Click to Enlarge
Good Grains Recipe Kits ~ Gluten Free Crafted Beer

BEER PROFILE:
Original Gravity: 1.044
Final Gravity: 1.011
Alcohol By Volume: 4.37%
Color SRM: 2.23
Bitterness IBU: 37
Yield: 5 gallons

KIT INCLUDES: Step-by-step brewing tutorial including boil instructions, 6.6 lb Sorghum syrup 45DE, 3 oz Cascade hops, 1 Whirlfloc tablet, 1 pkg Safale US-05 yeast

INGREDIENTS NEEDED BUT NOT INCLUDED: 2.5 tsp Yeast Nutrient, Priming sugar (if bottling)

EQUIPMENT NEEDED: 6+ gallon brew kettle, Primary fermenter with lid, Secondary fermenter w/ lid (optional), Airlocks, Sanitizer, Thermometer, Stainless stirring spoon, Bottling or kegging equipment
Price: $44.49
Ship Weight: 7.56 Pounds
SKU: GFHB-EX-HOPPALE


First brew as well
By David on 04/09/2023
Worked out pretty well. About as easy as it can get. Didn't realize yeast nutrient was something other than sugar and had to run to a local homebrew store to grab some before continuing my day. Flavor is okay. I think I should have strained my wort before moving the fermentor. Got a bit more of a bitter hoppy flavor on the front end than I would of wanted. Didn't use the secondary fermenter either. Probably won't brew again, but a great first batch. Got the Belgian extract kit for my next one.
---

My go-to brewing kit
By Clark on 09/26/2022
I've brewed from this batch twice now and am already planning my third time. So glad to find a delicious, hoppy ale to enjoy at home. Instructions are clear and easy, and the results are consistently solid (and ready to enjoy within a matter of weeks!) Highly recommend to anyone who likes some hops and wants a straightforward brew to try!
---

First time brewing
By Megan on 10/08/2020
This was my first attempt at home brewing. My husband has some experience with non-GF brewing, but its been quite a few years. The recipe was clear and the instructions were very helpful. We were able to hit the OG that was listed on the recipe, and our beer has been bubbling away for 4 days. Can't wait to taste it - hoping its great and i can come back and revise this to 5 stars. This was a great introduction to brewing and I've already ordered my next kit, Better Off Red.
---

May inspire you to brew more complex beers!
By Brian on 04/09/2015
I am giving this kit 5 stars based on the following: This is a modification of the first gluten free beer I ever brewed. It is a sorghum based kit, so it will have that sorghum taste. There are more hops in this kit than most commercially available gluten free beer. This kit gets five stars because it is an easy to brew, great for a new brewer, and is relatively cheap for a craft beer. This beer with leave you with more confidence in your ability to brew your own beer, and may inspire you to brew more complex beers.
---
Write a Review