Do you want to stay logged in?
For your security, you will be logged out shortly.
Lallemand Nottingham Ale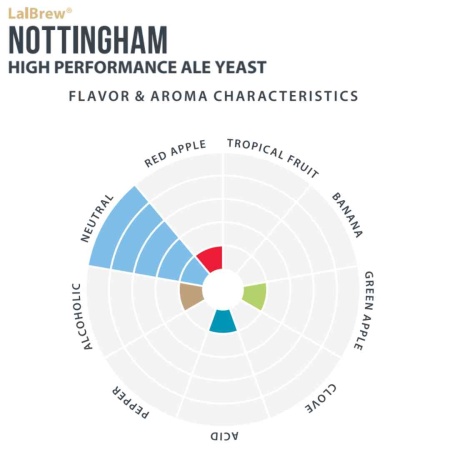 Click to Enlarge
The Nottingham strain was selected for its highly flocculant & relatively full attenuation properties. It produces low concentrations of fruity and ester-y aromas and has been described as neutral for ale yeast, allowing the full natural flavor of malt & hops to develop. The recommended fermentation temperature range of this strain is 57° to 70°F with good tolerance to low fermentation temperatures 54°F that allow this strain to be used in lager-style beer. With a relatively high alcohol tolerance, Nottingham is a great choice for creation of higher-alcohol specialty beers!

ATTENUATION - high
FLOCCULATION - high

Sold in 11 g sachets.

Dry yeast is a gluten free product.
Price: $4.49
Ship Weight: 0.03 Pounds
SKU: BSG-BZZZ3613

There are no reviews for this product. Please consider writing one.
Write a Review