Do you want to stay logged in?
For your security, you will be logged out shortly.
Lallemand Verdant IPA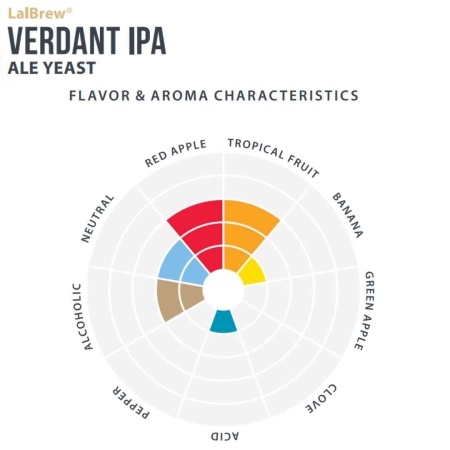 Click to Enlarge
Verdant IPA was specially selected in collaboration with Verdant Brewing Co. (UK) for its ability to produce a variety of hop-forward and malty beers. Prominent notes of apricot and undertones of tropical fruit and citrus merge seamlessly with hop aromas. With medium-high attenuation, Verdant IPA leaves a soft and balanced malt profile with slightly more body than a typical American IPA yeast strain. This highly versatile strain is well suited for a variety of beer styles including NEIPA, Hazy IPA, English IPA, American Pale, English Bitter, Sweet Stout and Sours.

ATTENUATION - medium to high
FLOCCULATION - very high

Sold in 11 g sachets.

Dry yeast is a gluten free product.
Price: $4.99
Ship Weight: 0.03 Pounds
SKU: BSG-BZZZ3651

There are no reviews for this product. Please consider writing one.
Write a Review