Do you want to stay logged in?
For your security, you will be logged out shortly.
pH Pro Bundle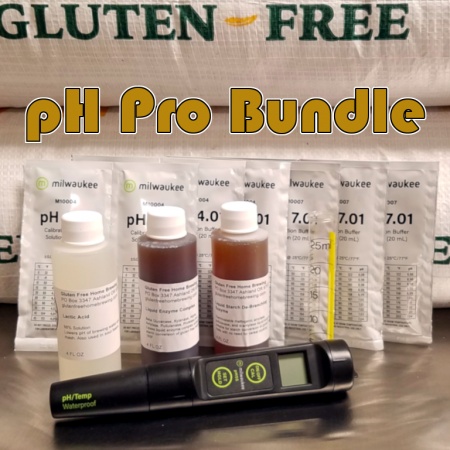 Click to Enlarge
Ready to step up your game? Welcome to the pro level of gluten free home brewing. To get the most out of Ceremix Flex and Ondea Pro, accurate pH testing, measuring and adjusting can get the highest potential PPG when brewing with a high percentage rice malt grain bill. Most brewers experience at least 100% efficiency once they have mastered this method! These enzymes in conjunction with this mash method unlocks additional PPG potential that the other enzymes simply cannot reach.

This bundle has everything you need to get the highest efficiency gluten free beer possible. Bundle includes: Milwaukee pH55 pH and Temperature Meter, six complete sets of 4.01 and 7.01 buffer solution, Ceremix Flex Liquid Enzyme - 4 OZ, Ondea Pro Liquid Enzyme Complex - 4 OZ, Lactic Acid, Liquid Concentrate - 4 OZ, and a 25ML Plastic Measuring Cylinder (pH Pro Bundle Exclusive).

**Click 'Resources' > 'Tutorials' > 'All Grain Brewing Tutorial' for usage recommendations updated October 2020**

After testing multiple methods, a rising step mash has provided consistent repeatable results. Calculate the strike water to achieve 124 - 128F target mash temperature and pitch Ceremix Flex and Ondea Pro. After 10 minutes measure the mash pH using test strips or a meter, then adjust the mash pH to 4.6 - 4.8. Maintain 124 - 128F for a total of 20 - 30 minutes. Raise mash to 145F (do not exceed 145F or the enzymes needed for this rest may denature). Maintain 145F for a total of 45 - 75 minutes. Raise mash to 172 - 176F and maintain for a total of 20 - 30 minutes before starting the sparge.
Price: $143.39
Ship Weight: 2.02 Pounds
SKU: GFHB-AMYL

There are no reviews for this product. Please consider writing one.
Write a Review