Do you want to stay logged in?
For your security, you will be logged out shortly.
Stainless Steel Forward Sealing Beer Faucet with Flow Control - NukaTap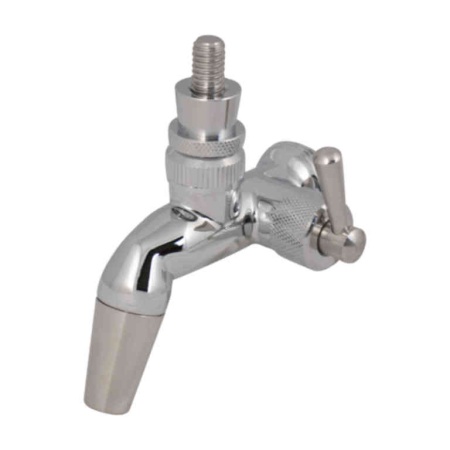 Click to Enlarge
Make instant adjustments to beverage flow as you pour
Switch from pouring pints to filling growlers without adjusting your CO2 regulator
Reduced first pour foam due to low thermal mass
Forward-sealing design prevents beer residue from gumming up the faucet
Unique shuttle design greatly improves laminar flow, improving the pour of carbonated beverages
Compatible with all Intertap faucet accessories and shanks

The flow control model is a great option for users that often switch between beer styles with different carbonation levels. No need to rebalance your lines or play with your regulator settings. Instantly make adjustments as you pour to dial in the flow rate. This is also a super convenient feature for when you want to grab a quick growler on your way out. By dialing back the flow rate, you can gently fill your growler so CO2 stays in solution and your beer doesn't pour flat when it comes time to share. The NukaTap Flow Control faucet is also the first FC model to be fully compatible with the optional self-closing spring.

Every kegerator owner knows the letdown of pouring your first pint of the day and getting too much foam. Even with perfectly balanced draft lines, first pour foam is sometimes unavoidable simply due to the temperature of the faucet itself. Running beer through the faucet will drop the temperature, and the foaming will subside, but not without a bit of wasted beer from pouring off excess head. The NukaTap beer faucet drops to beer serving temperature much faster thanks to its lower thermal mass. Simply put, the bulkier the faucet is, the more beer is needed to flow through and chill the tap. The NukaTap is over 20% lighter than its Intertap predecessor, and even lighter still compared to other brands of faucets.

AVAILABLE STOCK: Product availability dependent on current inventory; Any charges for out-of-stock product will be refunded.
Price: $54.99
Ship Weight: 0.41 Pounds
SKU: BM-D1584

There are no reviews for this product. Please consider writing one.
Write a Review