Do you want to stay logged in?
For your security, you will be logged out shortly.
NZH-214 Pellet Hops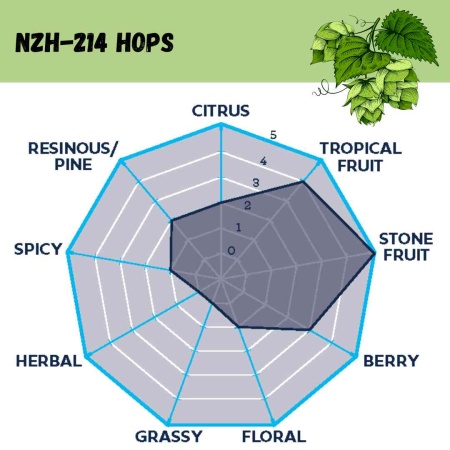 Click to Enlarge
NZH-214 can be used as an aroma addition from first kettle to dry hop.

Its combination of tropical and stone fruit character makes it ideal as a standalone hop or part of a blend for juicy and hazy IPA, or as a finishing hop for other hop-forward styles like pale ale and dry-hopped pale lagers.

Sensory: Pronounced tropical (papaya) and stone fruit (apricot) aroma

Brewing Values:
Alpha Acid Range: 5 - 8%
Beta Acid Range: 4 - 6%
Total oils mL/100 g: 1.7

Sold in 1 OZ bag
Price: $3.79
Ship Weight: 0.07 Pounds
SKU: BSG-HNZ2141Z

There are no reviews for this product. Please consider writing one.
Write a Review