Do you want to stay logged in?
For your security, you will be logged out shortly.
Hersbrucker Pellet Hops - 1 OZ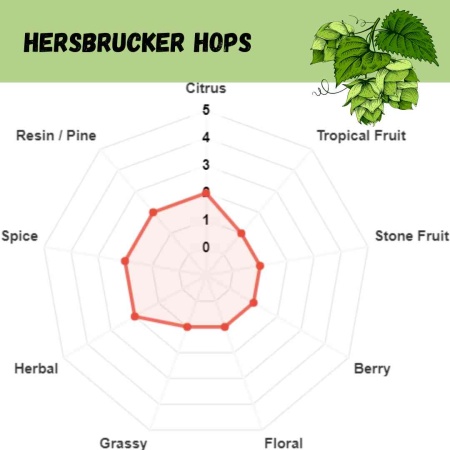 Click to Enlarge
This quintessential German hop is the product of natural selection and is therefore readily available and widely used around the globe. Also referred to as Hallertau Hersbrucker as it hails from the same region in Germany, there was also a Hersbrucker Pure spin-off developed by Anheuser Busch with similar aroma and slightly higher alpha acid content. In its natural form, Hersbrucker hops are used specifically to add the distinctively German aroma to Lagers, Pilsners, Bocks, and other traditional European styles. Expect a spicy, floral aroma with rich fruity overtones when you add these hops to your boil.

This varietal has a low alpha acid range of 2% to 5%, which is another reason it's rarely used for bittering and most commonly used for the wonderful aroma. Though Hersbrucker whole and pellet hops are easy to find, you could use Mt. Hood hops in their place. To taste Hersbrucker in a commercial brew, try Storm Brewing Co.'s Pale Gale Ale.

Sold in 1 OZ bag
Price: $2.49
Ship Weight: 0.07 Pounds
SKU: BM-HHER1

There are no reviews for this product. Please consider writing one.
Write a Review