Do you want to stay logged in?
For your security, you will be logged out shortly.
Pilum Imperial IPA - All-Grain Recipe Kit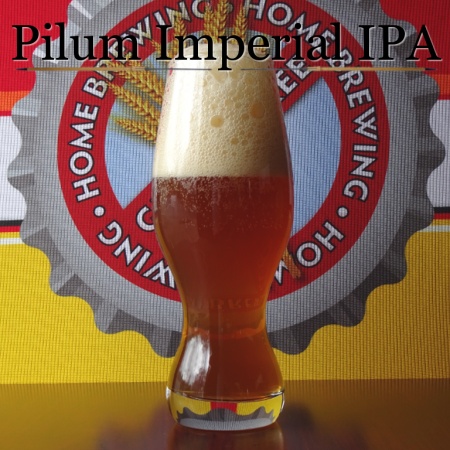 Click to Enlarge
Good Grains Recipe Kits ~ Gluten Free Crafted Beer

BEER PROFILE:
Original Gravity: 1.078
Final Gravity: 1.016
Alcohol By Volume: 8.12%
Color SRM: 8.74
Bitterness IBU: 119.8
Yield: 5 gallons

Malts are a naturally gluten free product malted in a dedicated gluten free facility. Produces gluten free beer. Use Amylase Enzymes to convert starches into sugars which can then be fermented by brewing yeast.

KIT INCLUDES: Step-by-step brewing tutorial including mash, sparge and boil instructions, Pale Millet Malt, Biscuit Rice Malt, Goldfinch Millet Malt, Roasted Cara Millet Malt, Columbus hops, Simcoe hops, Centennial hops, Whirlfloc tablet, Mangrove Jack's M42 New World Strong Yeast

INGREDIENTS NEEDED BUT NOT INCLUDED: 3.3 lbs Sorghum Syrup, Termamyl AND SEBAmyl L, 2.5 tsp Yeast Nutrient, 5 oz Priming sugar (if bottling)

EQUIPMENT NEEDED: 8+ gallon brew kettle, 10 gallon mash tun, 5 - 10 gallon HLT, Primary fermenter with lid, Secondary fermenter w/ lid, Airlocks, Sanitizer, Thermometer, Grain mill, Stainless stirring spoon, Bottling or kegging equipment
Price: $90.19
Ship Weight: 17.79 Pounds
SKU: GFHB-AG-PILIIPA


Pilum imperial IPA is totally awesome.
By Keith on 12/31/2019
This is my first all-grain gluten free recipe. Millet was a pain to crush but managed to get a decent crush after three passes. I was pleasantly surprised how delicious the wort was during recirculation. I could taste the conversion - tasted at dough in, tasted at 60 minutes, tasted at 120 minutes. First runnings were slightly under expected but considering expected OG is 1.078 and mine was 1.074, I'm happy. I was concerned that a single yeast packet wouldn't be enough to get to expected FG and I couldn't make a gluten free starter so, had to go with it. Surprisingly, FG was 1.012 and expected was 1.017. Tasting gravity sample, this is amazing for gluten free. I look forward to my next GF venture!!
---

Well-integrated, hoppy, lots of flavor
By Jp on 04/10/2019
I had this beer recently. It is very well-balanced hops to malt. I tried the imperial version with the extra sorghum which raised the alcohol. It was not "boozy." The malt had a nice roast flavor to it. The IBUs are over 100, but the bitterness pairs well with the malt flavors of bran and caramel.
---
Write a Review