Do you want to stay logged in?
For your security, you will be logged out shortly.
Lallemand Koln Kolsch Style Ale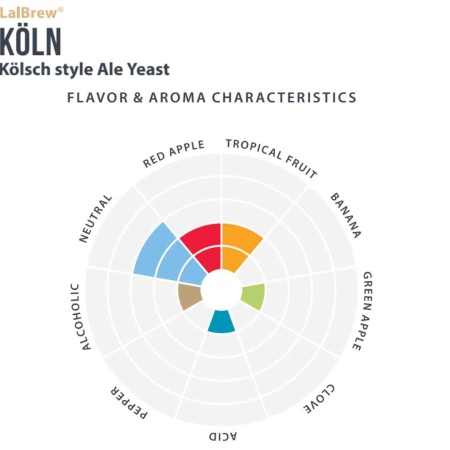 Click to Enlarge
LalBrew Köln is ideal for brewing traditional Kölsch-style beers and other neutral ales. The neutral character of this strain accentuates delicate hop aromas while imparting subtle fruity esters. Through expression of a beta-glucosidase enzyme LalBrew Köln can promote hop biotransformation and accentuate hop flavor and aroma. Colder fermentations will be more neutral in character, while warmer fermentations will have more fruit-forward ester profile.

ATTENUATION - medium to high
FLOCCULATION - medium to high

Sold in 11 g sachets.

Dry yeast is a gluten free product.
Price: $4.99
Ship Weight: 0.03 Pounds
SKU: BSG-BZZZ3647

There are no reviews for this product. Please consider writing one.
Write a Review