Do you want to stay logged in?
For your security, you will be logged out shortly.
Beer Batter Mix - 10 OZ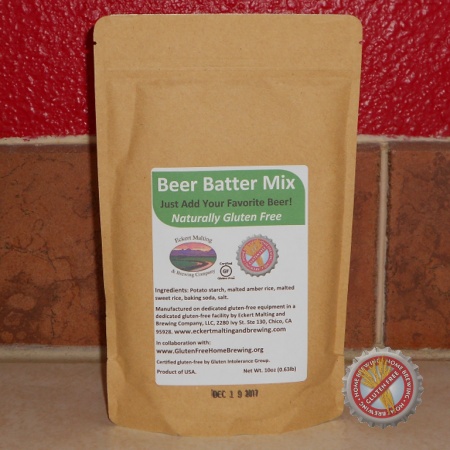 Click to Enlarge
Produced by Eckert Malting & Brewing Company in collaboration with Gluten Free Home Brewing
Certified Gluten-Free

Enjoy the maltiness of rice malt in your favorite fried foods. Beer Batter Mix can be used with your favorite seafood, meat or vegetables....just add your favorite beer!

The Beer Batter Mix Story: Growing up in Milwaukee Wisconsin with plenty of beer and Friday fish fries has made being gluten free challenging. We struggled over the years to make a gluten free batter that would stick to the fish, stay stuck to the fish throughout the frying process, and then didn't simply crumble or separate when eating. After many years of disappointing attempts with mediocre results, our interest in trying again was renewed since we started making great recipes made from Eckert Malting & Brewing Co's malted rice flours. The Beer Batter Mix is a result of our collaboration with the amazing people at Eckert Malting & Brewing Co.

Ingredients: Potato starch, malted amber rice, malted sweet rice, baking soda, salt.

Serves approx. 4 - 6
Sold in 10 OZ bags
Price: $7.99
Ship Weight: 0.65 Pounds
SKU: EKBBM


Crunchy crust that stays on the fish
By Jp on 02/23/2018
We used ocean perch and my own gluten free Pilsner lager the first time I tried this beer batter mix. The mix is easy to use and if you have any questions on how to mix and apply the batter, there is an informative video available on the GFHB YouTube page. This is the best GF batter that I've had, ever! The batter was crunchy when I cut the fish open and it stayed attached to the fish as I drug it through a liberal amount of tartar sauce. I can't wait to try it again with other kinds of fish like salmon and vegetables like onion rings!
---

Amazingly Good
By Trevor on 12/31/2017
Highly recommended! Whether you're making fish and chips, fried chicken or any other battered dish, this mix is what you want to use. It fries up crispy, fluffy, and golden and smells wonderful even before it hits the oil. Tried it on fish, chicken, and sausages, and we're planning on trying it on asparagus next!
---
Write a Review