Do you want to stay logged in?
For your security, you will be logged out shortly.
IPA 1758 - All-Grain Recipe Kit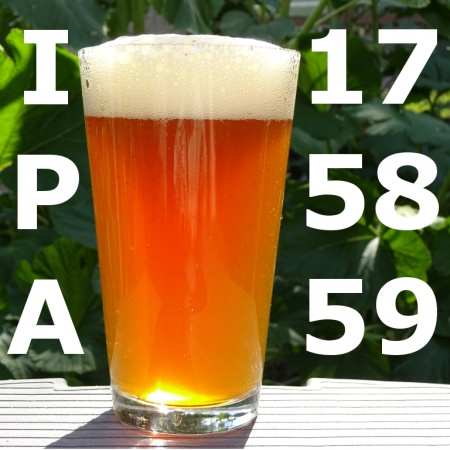 Click to Enlarge
Good Grains Recipe Kits ~ Gluten Free Crafted Beer

BEER PROFILE:
Original Gravity: 1.057
Final Gravity: 1.014
Alcohol By Volume: 5.6%
Color SRM: 11.28
Bitterness IBU: 51
Yield: 5 gallons

Inspired by the very popular Fantastic Floyd's IPA, we are proud to present an updated grain bill that offers a bolder flavor profile. Malts are a naturally gluten free product malted in a dedicated gluten free facility. Produces gluten free beer. Use Amylase Enzymes to convert starches into sugars which can then be fermented by brewing yeast.

KIT INCLUDES: Step-by-step brewing tutorial including mash, sparge and boil instructions, Pale millet malt, Biscuit Rice Malt, Dutch roasted millet malt, Goldfinch millet malt, Roasted buckwheat malt, Rice hulls, Citra hops, Amarillo hops, Whirlfloc tablet, Mangrove Jack's M44 U.S. West Coast Yeast

INGREDIENTS NEEDED BUT NOT INCLUDED: Termamyl AND SEBAmyl L, 2.5 tsp Yeast Nutrient, 5 oz Priming sugar (if bottling)

EQUIPMENT NEEDED: 8+ gallon brew kettle, 10 gallon mash tun, 5 - 10 gallon HLT, Primary fermenter with lid, Secondary fermenter w/ lid, Airlocks, Sanitizer, Thermometer, Grain mill, Stainless stirring spoon, Bottling or kegging equipment

(Product reviews prior to 6/20/18 were written for the Fantastic Floyd's IPA)
Price: $86.49
Ship Weight: 17.79 Pounds
SKU: GFHB-AG-IPA1758


Truly a Fantastic IPA
By Stefan on 05/05/2016
This recipe kit produces a top notch IPA. What impressed me the most was the mouthfeel of this beer. This beer stands up to any traditional IPA. Great hop aroma, great mouthfeel, and great finish. You would not know that this beer is gluten free due to its exceptional balance of malt to hops coupled with the lack of any off flavors on the finish. Would brew this again!!!
---

This is a full body beer with a great mouthy feel that is true to style.
By Brian on 05/09/2015
We (GFHB) have had the privilege of networking and becoming friends with a lot of people in the gluten free beer brewing community over the years. "Floyd", who crafted this recipe, has been a good friend to me well before the GFHB store was ever conceived. We have enjoyed sending each other samples of our beers for many years now. So when I got the chance to sit in his home and taste his wonderful beers, I was truly honored.

Both the partial-mash and all-grain versions of Fantastic Floyd's IPA offer a delicate bouquet of floral and citrus aroma which carries through in the flavor as well. This is a full body beer with a great mouthy feel that is true to style. The aftertaste does not change or alter to any notable off flavors. This is a remarkable beer that can be enjoyed as a partial-mash, or reach it's fullest potential as an all-grain. This beer would stand up to any conventional beer commercially available or homebrewed.
---

From: Chris Saltmarsh
By Valued Customer on 05/03/2015
This was my first gluten free homebrew and I was very pleasantly surprised! It is delicious! Definitely one of the best tasting, if not THE best tasting gluten free beer I have had! This definitely could stack up again conventionally brewed beers.

All ingredients arrived as advertised along with instructions. I also had a couple of questions I emailed in that were responded to quickly and accurately. I just started drinking this batch and I am already considering what to order for my next batch.
---
Write a Review