Do you want to stay logged in?
For your security, you will be logged out shortly.
FermZilla Conical Fermenter - 7.1 gal / 27 L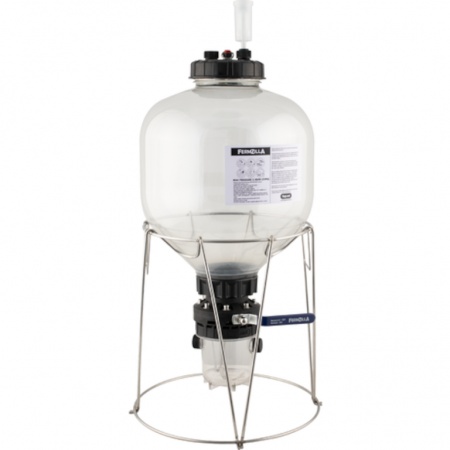 Click to Enlarge
The new and improved FermZilla in 27L brought to you by the critical key minds and engineers behind the original Fermentasaurus Gen 1. Although the original Fermentasaurus was revolutionary at the time of its conception, there are always areas to improve upon. This is partly due to the strong community of Fermentasaurus users who have helped push for an improved conical unitank.

New and Improved:
1. Larger Dump Valve - 3" butterfly dump valve is more resistant to clogging from large amounts of trub
2. Larger Opening - 4.75" top port opening allows for easier cleaning
3. Less Headspace - more appropriately sized for 5-gallon batches. Purging the headspace of oxygen is easier and more effective.

What's Included:
FermZilla 27L Tank with Butterfly Dump Valve
Reinforced Stainless Steel Stand
Top Lid with PRV (35 psi)
1000 ml Collection Container & Lid
3-Piece Airlock
Graduation Sticker
Adhesive Thermometer
Strap Wrench
Spare Seals
Specs:

27 L (7.1 gal) Total Volume
Pressure Rated to 2.4 Bar (34.8 psi)
Temperature Rated to 122°F
Height in Stand - 28.3"
Height w/ Airlock - 32.7"
Tank Diameter - 13.9"
Diameter in Stand - 15.7"
Lid & Collection Container Ports - 28 mm PCO 1881 threads

PLEASE NOTE: Ships from the Brewmaster; please allow additional time for UPS or FedEx ground shipping; product availability dependent on Brewmaster. Actual Shipping Weight 12 LBS
Price: $159.99
Ship Weight: 0.00 Pounds
SKU: BM-FE110

There are no reviews for this product. Please consider writing one.
Write a Review