Do you want to stay logged in?
For your security, you will be logged out shortly.
The Grainfather G30-3 (110 v)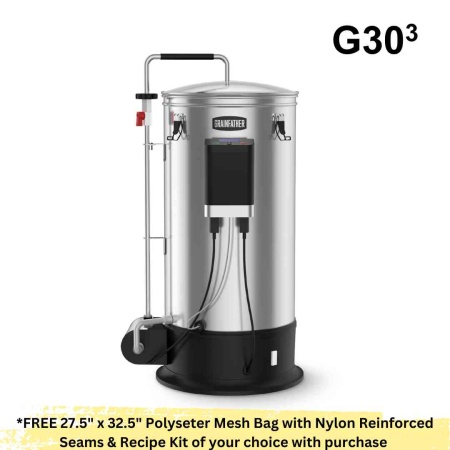 Click to Enlarge
*Free 27.5" x 32.5" Polyseter Mesh Bag with Nylon Reinforced Seams & Recipe Kit of your choice with purchase of The Grainfather! (Receive a voucher redeemable for full purchase price)

How do the Grainfather G30³ design changes impact brewing gluten free beer? The new Grainfather G30³ design includes side wall perforation on the bottom of the malt tube. While this may increase wort circulation in conventional brewing, it allows gluten free malt to pass through the malt tube. Therefore, the GFHB exclusive 1000 micron stainless steel mesh screen for the previous version is not sufficient. At this time, we recommend lining the malt tube with the mesh grain bag included by GFHB.

The Grainfather G30³ (110 volt) is your all in one brewing system to make beer from grain. The sleek look, user friendly, intuitive design, and innovative features, make this your perfect brewing companion for both experienced and beginner all grain brewers. It is made from high quality 304 grade stainless steel with a 8 US Gal capacity, designed to make up to 6 US Gal of beer from one brew. The Grainfather G30³ includes The Grainfather unit and Counter Flow Wort Chiller.

New Features on the G30³:
- Auto Reset Switch
- Newly redesigned Perforated Edge Grain Basket

Same Great Features:

The Grainfather is electrically powered and designed to be used indoors. It is fitted with a controlled heating element, which ensures the correct power is used during different stages of the brewing process. The Connect Control Box in conjunction with the Grainfather Community App connects via Bluetooth so your mobile device can be used to control your unit remotely.

Control Box: PID algorithm works in conjunction with a triac for more stable heating - Programmable step mashing - Delayed heating - Change between celsius and fahrenheit easily - Waterproof graphic display - Use in manual mode or with the Grainfather app

Grainfather Community App: Ability to import recipes (Beer XML files) - NOTE: iOS9 and higher - Set your own boil temperature (for different altitudes) - Manage your brew with the Grainfather calculators - Create your own recipes and share them

Pump: A 6 Watt 1,800 RPM magnetic powered pump recirculates the wort through the grain bed. This pump is also used during the cooling stage to push hot wort through the wort chiller. Additionally, the pump makes the cleaning process quick and easy as cleaning detergent can flow through the pipe work.

Counter Flow Wort Chiller ($189.99 value): Rapidly cools the wort that can then be pumped directly into your clean, sterile fermenter.

Support: The Grainfather is fully supported and come with a 3 year warranty.

PLEASE NOTE: Ships from BSG Handcraft; please allow additional time for UPS or FedEx ground shipping; product availability dependent on BSG Handcraft. Actual shipping weight: 43 lbs
Price: $999.00
Ship Weight: 0.00 Pounds
SKU: BSG-EZZZ9817

There are no reviews for this product. Please consider writing one.
Write a Review