Do you want to stay logged in?
For your security, you will be logged out shortly.
Milwaukee pH55 pH and Temperature Meter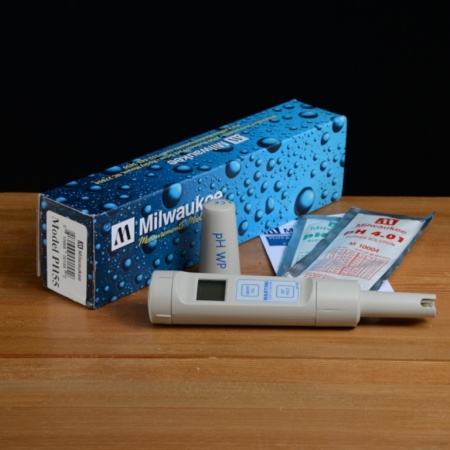 Click to Enlarge
The Milwaukee pH55 pH meter is a pocket-sized, waterproof pH and temperature meter. It features a digital display, automatic calibration, and automatic temperature correction. The pH55 also has an auto-off function to save battery life, and a hold button that freezes the display for easy recording. The electrode is replaceable.

Range: -2.0 to 16.0 pH, -5.0 to 60.0 °C
Resolution: 0.1 pH, 0.1 °C
Accuracy: (@25 °C) ±0.1 pH, ±0.5 °C
Temperature Correction: Automatic (-5 to 60 °C)
Battery Type: 4× 1.5V; IEC LR44, A76 (included)
Battery Life: approx. 300 h.
Dimensions: 200 mm long × 38 mm diameter
Weight: 100 g

AVAILABLE STOCK: Product availability dependent on current inventory; Any charges for out-of-stock product will be refunded.
Price: $79.99
Ship Weight: 0.25 Pounds
SKU: BSG-EZZZ6879

There are no reviews for this product. Please consider writing one.
Write a Review