Do you want to stay logged in?
For your security, you will be logged out shortly.
Dark Roasted Millet Malt - 1 LB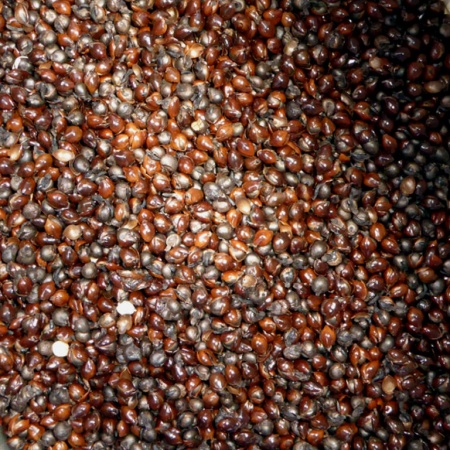 Click to Enlarge
Produced by Grouse Malting and Roasting Company
Certified Gluten-Free

Naturally gluten free product malted in a dedicated gluten free facility. Produces gluten free beer. Use Amylase Enzymes to convert starches into sugars which can then be fermented by brewing yeast.

This robust roasted malt is full of cocoa nub and bitter cocoa flavors. It yields a color that will stop Stout searchers in their tracks.

SRM: 300-350
Average Potential Gravity: 1.025 or 25 gravity points per gallon*.
Diastatic Power: Maximum Range 20-35 Litner; Average Range 20-25 Litner.
Suggested Usage: <10%

Sold in 1 lb unmilled bags

*PPG based on a falling step mash in a controlled lab setting conducted by Grouse Malt House and Hartwick College Center for Craft Food & Beverage.
Price:
$5.29
SPECIAL: $3.99
Ship Weight: 1.03 Pounds
SKU: MI1300#1

From: Clay White
By Valued Customer on 11/23/2018
This works much like chocolate malt. Great for making porters! Just make sure you use 5.4 ph stabilizer to keep the burnt flavors out.
---

From: Stephen Wilfong-Oliphant
By Valued Customer on 11/23/2018
Has a wonderful dark brown color with cocoa notes to the aroma. Great quality, was great to brew with. I used it in conjunction with a few other grains to make a partial mash Oatmeal Stout, and I am looking forward to the finished product!
---

From: Greg Jeffreys
By Valued Customer on 11/23/2018
Brewed a porter with this along with pale millet and dark candy syrup and it turned out great.
---

Great malt for a Stout
By Daniel on 11/23/2018
I used the Dark Roasted Millet in a Stout recently and found it to lend hints of chocolate and raisin it was very tasty. The SRM present was very dark a little goes a long way.
---
Write a Review