Do you want to stay logged in?
For your security, you will be logged out shortly.
SEBAmyl L Endo-Alpha Amylase Enzyme - 4 OZ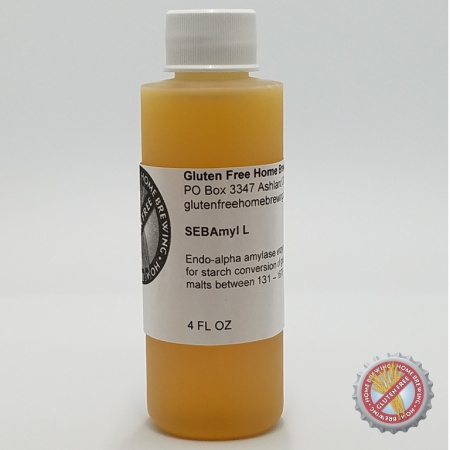 Click to Enlarge
Endo-alpha amylase enzyme suitable for starch conversion of gluten free malts between 131 – 167F. Recommended for use with all gluten free malts by Grouse Malting & Roasting Co and Eckert Malting & Brewing Co.

Use in conjunction -WITH- SEBAmyl BAL 100 or Termamyl.

Recommended pH range: 5 - 6.5

**Click 'Resources' > 'Tutorials' > 'All Grain Brewing Tutorial' for usage recommendations updated October 2020**

Single Infusion Mash: SEBAmyl BAL 100 -OR- Termamyl enzymes work -WITH- the SEBAmyl L enzyme at temperatures of 155-165F (163.4F recommended) to convert starch into fermentable sugars.

Reverse Step Mash: SEBAmyl BAL 100 -OR- Termamyl enzyme work at temperatures of 155-165F to convert starch into chains that the SEBAmyl L enzyme can work at temperatures of 140-150F to convert those chains into fermentable sugars. By using the enzymes separately at two different temperatures, the alpha and beta amylase enzymes work in their optimal environments. This results in a higher amount of starch conversion, and a higher amount of fermentable sugars.

Sold in 4 OZ bottle - Should be stored in a cool, dry place at or below 41F to help maintain maximum activity over long periods
Price: $10.99
Ship Weight: 0.37 Pounds
SKU: GFHB-AMYL

There are no reviews for this product. Please consider writing one.
Write a Review