Do you want to stay logged in?
For your security, you will be logged out shortly.
Falconer's Flight Pellet Hops - 1 OZ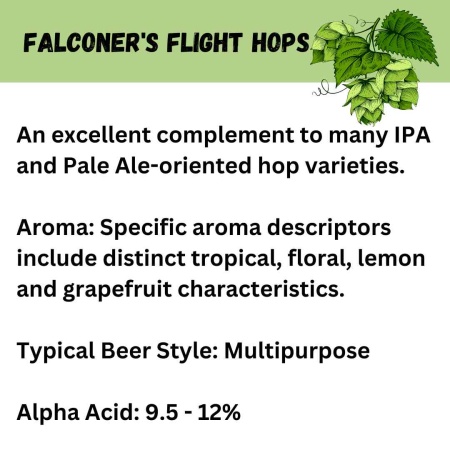 Click to Enlarge
Developed by Hopunion LLC in 2010, Falconer's Flight hop pellets are an exclusive proprietary hop blend created to honor and support the legacy of Northwest brewing legend, Glen Hay Falconer. Proceeds from each Falconer's Flight purchase is contributed to the Glen Hay Falconer Foundation. These hop pellets are an excellent complement to many IPA and Pale Ale-oriented hop varieties.

Aroma: Specific aroma descriptors include distinct tropical, floral, lemon and grapefruit characteristics.

Typical Beer Style: Multipurpose

Alpha Acid: 9.5 - 12%

Sold in 1 OZ bag
Price: $3.69
Ship Weight: 0.07 Pounds
SKU: BM-HFAL1

There are no reviews for this product. Please consider writing one.
Write a Review